I had to go look this morning and find out when I started my scrap vomit quilt. It was the beginning of September 2012 when I first posted about it. It was a quilt that I got off to a steady start but lost steam part way through.
Scrap Vomit - September 4
Scrap Vomit - September 15
It was stuck at 3/7th of the way done for an awful long time!
Then in January and February I tackled it again, soon getting the blocks done and getting the whole thing pieced together.
Scrap Vomit - February 25
Friday morning I decided today was the day to get the thing basted. Let's move this sucker off the UFO list and get it on our bed! I brought it to work (love working a church with all the tables to spread my projects out on!) and got it all basted up in the afternoon before heading home.
Basted!
Backing is Britten Nummer from IKEA and Robert Kaufman's Spot On - Small Spots in Aqua
I spent a few hours quilting it on Friday. I had bought my first spool of Aurifil thread earlier in the week when a LQS was having a big sale. Oh. My. Goodness. My machine just loved it!
Saturday was spent doing some more quilting and soon the binding was on!
I used
Pat Sloan's
way of putting the binding on by machine stitching it. Usually I hand stitch the binding on but this is going to be used and plus it is so big! I didn't think I'd be patient to finish it! The only thing I did different was making my binding 2.5" and folding it in half like I usually do. After sewing the binding to the back side of the quilt, you use a reverse blanket stitch to hold it down. It worked so slick! The Aurifil was 50wt and using it with the binding, it just disappeared. (Print on the binding totally helped hide the stitch lines as well.)

For the binding I used this:
Love how this binding looks... frames it plus it gets some texty stuff going on that I love so much!
One of my favorite things on a quilt is hand stitching. Absolutely love how it looks, especially Perle cotton. I auditioned my Perle cotton stash to my husband and we decided orange was the color to go with and it would go in the white squares of the B Blocks.
With aching fingers, I hand stitched away on Saturday and Sunday afternoon. Woke up at 5am on Monday unable to go back to sleep. Should I play Candy Crush or hand stitch? Hand stitching won and soon all 24 blocks had orange stitches running through them! I threw it in the wash and soon a wonderful crinkly quilt was emerging from the dryer!


My husband is going to help me this weekend get some pictures of it outside. There's no way I can wrestle this big thing, especially with all the mud that's showing up at the edges of the snowbanks. Hope the weather cooperates!
I think I slept with a smile on my face all night knowing this new quilt was keeping me warm!
I've noticed that after all the bright colors I've been working with lately, the pallet that I'm pulling for upcoming projects is much more.... calm.... low volume seems to be calling out!
Linking up...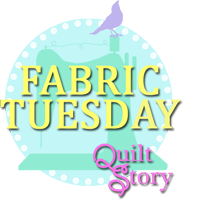 Finish It Up Friday @ crazy mom quilts