Our school district has been going through a lot of changes these past couple of years and this year was the big year for our son's school - they got to move across the street to a brand-spankin' new building!
With the move across the street to the new building meant a lot of stuff was left behind - old desks, chairs, tables, cabinets, etc. And they had a big auction. It was my first auction as an adult and I teased our son I was going to let out loud "YUUUUUUUPs" (Any Storage Wars fans out there?!)
We ended up spending around $75 and got two tables, a Doctor Octopus cardboard cutout (Son was drooling over this, had a $1 burning a hole in his pocket and that's what he got it for!), a couple of student desks for $1 and a chair to go with one of the desk, a metal storage cabinet for out in the garage (our big purchase of $50), and my best find... a Danish Modern Chair. That I won for a whole whoppin' $5! JACKPOT!
Here it is, with it's really gross cover. When you touched the fabric, it fell apart in your hands and left this gross dusty film on your hands.
After looking and looking for something to cover this chair locally and not finding anything. I kept coming back to the Jessica Jones' Outside Oslo line.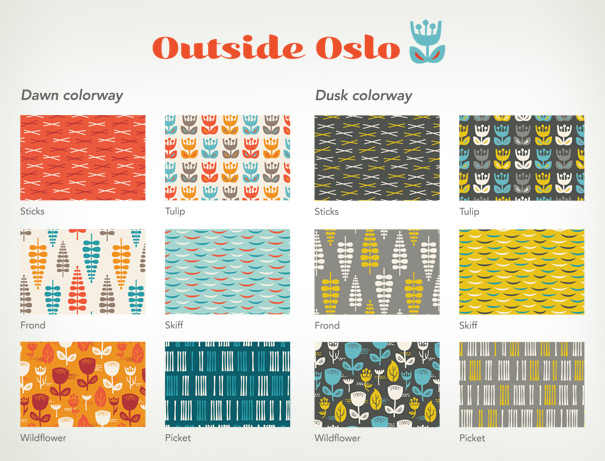 No one in our town carries it though. Thought about buying it online, but then we decided to make a road trip to Minneapolis and their was a store down there that carried it. Perfect! Ended up with Picket in the Dawn colorway.
To make the covers I followed
this tutorial
on "Sew, Mama, Sew", leaving off the handles. They went together great! I reused the foam from cushions since they were in decent shape. For the zippers, I re-purposed the old cover's zippers by ripping them out (which meant I had to touch the icky fabric. Gross. Gross. Gross!) But I was in the mood to make them and Hancock Fabrics seemed so far away so it was a small price to pay!
Here's the final product.
Much happier now!